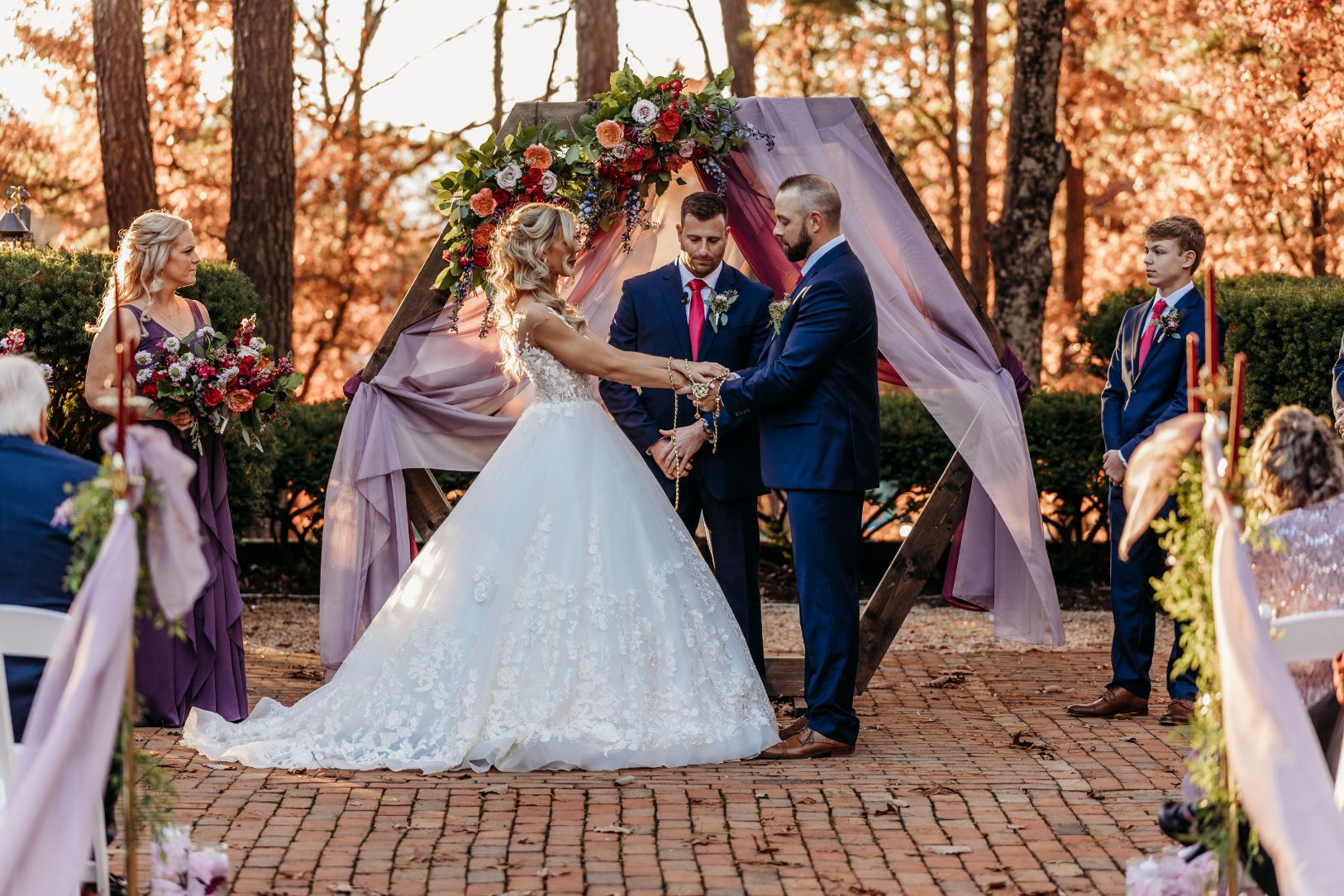 Peggy was the most amazing planner to work with! Being from out of town, we really didn't have anywhere to start. Peggy knows so much about Roanoke, and the surrounding areas. She helped us find a majority of our vendors, kept us on schedule throughout the wedding planning process and on the day of; she took care of so many details behind the scenes before and during the wedding, and even made sure we had everything together as the night was ending. I am a very organized person, but hiring Peggy to take care of things while I was getting married, was probably the best investment for our wedding. No one wants to be placing escort cards the morning of their wedding, but Peggy definitely helped with that! I can't thank her enough for all that she did!
- Christen and Will Myers
We engaged Peggy to provide "day of" wedding coordination- which actually means she swooped in about a month prior to take care of final details. Hiring Peggy was a great decision. Her precision, timely communication and abundant experience eliminated the stress of dealing with the entire final minutia that is so distracting and stressful - she allowed my daughter and me to have a worry-free celebration!
- Cindy Flint
I will continue to refer you to our clients because you are THE BEST in the biz!! You have such a wonderful attention to detail and you take such good care of the clients 🙂
Thanks again, Peggy and Best Wishes for a wonderful 2022!!
-Carla – Pumpernickel Pickle Catering
Peggy Walker did an amazing job helping to plan my wedding day! My husband and I were very pleased and impressed with how much she did to make our special day the best possible. She helped with me with much of the planning and took so much stress off myself. Peggy is incredibly professional in her role, but also very personable and made sure anything we needed, she took care of it. We honestly can't say enough wonderful things about her as a planner. One thing we both really appreciated was on the day of the wedding, she took care of everything, what to do, where to go, when to go to every point of the day, which made our day just fun and stress free for us. We cannot thank Peggy enough for all her hard work in making our special day just perfect! We highly recommend hiring her to plan your wedding day, she will not disappoint!
- Jenna and Zack Martin
As Events Manager at Charter Hall, I can say without a doubt that Peggy will always ensure that your wedding goes off without a hitch. She goes above and beyond for her clients. I highly recommend giving her a call.
- Lyndsay Talbot
We can wholeheartedly recommend Peggy Walker to help with every aspect of your wedding. My daughter had to have the scaled down COVID Wedding in 2020 and finally her big celebration on Sept 11 2021. Peggy was with us through it all. She was readily available for several consults along the way with great suggestions on sticky situations. The day of the celebration she was a rock star! Very thorough and precise, and always pleasant to work with throughout the planning process.
- Beth Hathaway
Peggy did a wonderful job making sure everything ran smoothly on our wedding day. She was also great at keeping us on track during our planning process!
- Whitney Walton Barlow